UNEDUCATED ACADEMICS WROTE LETTER TO PRIME MINISTER NARENDRA MODI
Some persons listed at the end of this blog, reported themselves as prominent persons and self established intellectual persons. They have shown their sensitivity on the recent atrocity incidents in India.
LACKING IN COMMON SENSE:
It is a matter of common sense that India is a large and thickly populated country. When British left this country it was hardly having its share in the world trade and production. Generally it was exporting raw material and importing finished goods.
Somehow or other Nehru took over the rein and he ruled with huge majority for nearly two decades. By that time India remained poor. Once in the parliament Dr. Lohia had announced "out of 50 crores of population, 40 crores persons' daily income is less than four Annas(25 paise)." Nehruvian Congress corrected the figure while replying to the statement, that it was not 25 paise, but 27 paise.
We know that it does not make any difference. But this was the outcome of Nehru's rule of nearly two decades.
During this period Nehru introduced reservation by caste. But did not take care to look as to who took the benefit. Indira Gandhi also ruled with huge majority for more than two terms inclusive of two years with autocracy. She expanded the scope of reservation to more castes. Both the Nehruvians kept this type of reservation as a permanent feature. Ambedkar was for reservation only for untouchables and that too for a limited period of 10 years.
None of the Nehruvian cared to see as to how the reservation functions. i.e. Who are getting benefitted all the time,  and who are deprived of the reservation despite of being Dalit?
NEHRUVIANS WANTED THE RESERVATION SHOULD WORK LIKE THAT ONLY.
i.e. Those lower caste families who have improved their status would continuously take the benefit of reservation. These beneficiaries were their own people and they were to keep hold on vote-bank to misguide their own people. Nehruvian Congress was fond of creating this situation which was most favourable for them under "Vote Bank Politics".
A State Governor's son/daughter was entitled for reservation but a poor Dalit with little less percentage to the son/daughter of a Dalit caste Governor was miss the  reservation. 
This policy of Nehruvian Congress still works with minor correction.
POLICY OF IDENTIFYING A PERSON BY CASTE AND RELIGION
To identify a person by its caste had created heavy class conflict during Nehruvian Congress rule since 1970 when Indira Gandhi float "Garibi Hatao".
Indira Gandhi deep rooted the Caste-ism in 1971. In nineteen eighties and nineties there were riots also. During Nehruvian Congress rule they instigated the riots so that the hatred get expanded and become very deep rooted. This was the culture Nehruvian Congress.
DROPs OF A DEVIL's BLOOD
Just like a devil blood drop, dynastic cultural parties took birth due to the success and victories of Nehruvian Congress under vote bank politics. 
Now let us come to the point about the sensitivity of these elite persons of the list, who wrote a letter to the Prime Minister indicating their great concern on atrocity on Dalits and Muslims.
Yes. Now the gang has added Dalits. Previously the gang used to talk of Muslims-Christian mix. The idea behind the adding Dalits is to keep them away from rest of Hindus. Because Dalits are still poor and less literate and thereby they can be mislead very easily.    
WHO IS THIS GANG?
These persons are termed as "academics". "Academics" is a quite confusing term. Similarly the same is with "learned", "Educated".
Literally an Academic means a studious or an expert in a field who is much more than a learned. Learned means it is simply holding some certificates, just like our Man Mohan Singh who was committed to Nehruvians' instructions.
ARE THEY QUALIFIED?
A person has to be qualified to opine on an event. He/she is supposed to be "Educated person". "Educated person" is that person who has understood the issue and he/she has the capacity and expertise to solve the issue.
"Conflict between or among communities" is a social issue.
After all, every issue barring "science and technology", all are the social issues. Social workers supposed to be sensitive on social issue without discrimination.
A SOCIAL ACADEMIC IS SUPPOSED TO BE A SOCIAL SCIENTIST.
A Social scientist must know the historical back ground of an issue at hand. A social scientist must have the sense of proportion and the sense of comparability. The social scientist is not supposed to play a "Blame Game". The social science is also a science. A scientist is not supposed to play a Blame Game.
But suppose a social scientist wants to show his research work and want to submit the REPORT then what should be done?
It appears from the letter addressed to the Prime Minister, these self recognized academics have jointly signed the letter. They do not have sense of proportion and they have not gone through deeply into the issue. An Academic must be studious. But here they have not studied the issue.     
A community may be composed of a Class, a Service, a Caste, a Religion, a Region, a Language… 
HAVE A LOOK AT THE HISTORY
(1) JL Nehru had kept the Indo-China boarder knowingly insecure all the time. This was a big factor for India's quick defeat. It causes a CAKE WALK VICTORY FOR CHINA. Minimum 3000+ soldiers were killed, due to the folly of Nehru.
To ask the security forces to sacrifice despite of prolonged military infiltration of China, was not a sensitive issue?
(2) Indira's folly/scam was the Simla pact, where the victory achieved by the Indian army was converted to total defeat.4000+ Indian soldiers were killed in that war.
Was it not a sensitive issue?

(3) Union Carbide defective deal belonged to Indira Gandhi. Bhopal Gas hazard was the out come.25000+ persons were died and 500000+ were injured for life time.
Was it not a sensitive issue?
(4) Anderson was provided with Government vehicle by Arjun Singh in association with Rajiv Gandhi to have a free pass to leave India.
Was it not a sensitive issue?
(5) Hundreds of Hindus' temples were demolished in Kashmir before and after the Babri Mosq demolition.
Were these not sensitive?
(6) In 1989-90 thousands of Hindu women were raped, tens of thousands of kashmiri Hindus were murdered and lakhs of Hindus were driven out. All these were done with the pre-planned and openly using loud speakers on Mosqs and on Jeeps, asking Hindus to adopt Islam or to runaway or be ready to get murdered.
Farukh Abdullah had run away like a coward. Nehruvian Congress did nothing to establish human rights of Hindus. No investigation, No FIR, No arrest, No prosecution, what to talk of punishment to the culprits?
Farukh and his son were not even disqualified for elections. On the contrary their failure was rewarded by establishing them as the CM of J&K by Nehruvian Congress by extending support to them.
This was the unparallel breach of human and natural rights of Kashmiri Hindus in the world history, where the Muslims inclusive of locals and Muslims across the boarder jointly executed butchery, under the willful inactions and negligence of local political Muslim leaders and the Nehruvian Congress leaders.
What sensitivity by these signatories had been shown?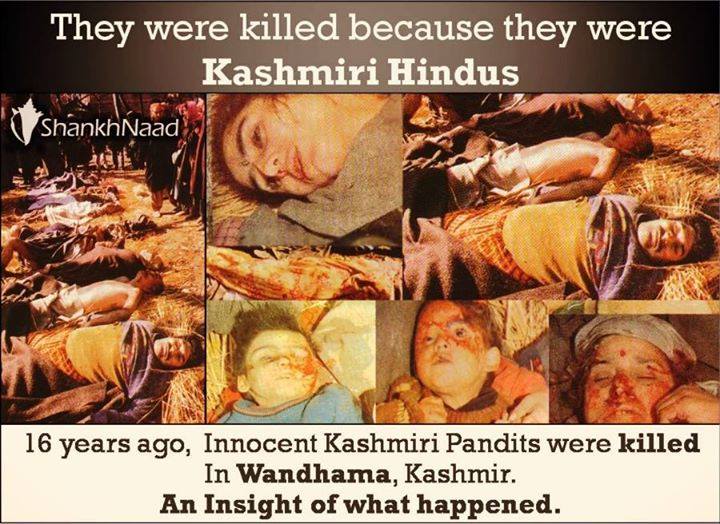 (7) Even after this also, several carnage took place where Hindus were identified,  driven out of buses and  straight way shoot to death.
Had these signatories shown any sensitivity?
(8) Please note that, in Kashmir, or in Kerana or elsewhere no Muslim was killed. Hindus were only killed.
(9) Besides this terrorists attack by Muslims of cross border with and without association of local Muslims, during Nehruvian Congress party rule, was maximum. It was a total failure of Nehruvian Congress government's intelligence services, or the Nehruvian Congress in association with their cultural allies made the intelligence service ineffective or the same has been ignored willfully. When the defense top officers had complained that the defense have no spare parts, what to talk of services.
On these terrorists attack, the Nehruvian Congress government was a total failure.
Had these signatories written a letter to the then Prime Minister?  
(10) To talk about riots of 2002, is a fashion of some gangs so called intellectuals. But they never link the riots with the blazing of Sabarmati Express Coach C-6, at Godhra Railway station under a pre-planned conspiracy of a local district head of Nehruvian Congressman.
Victims were 59 Hindus because they were Hindus and returning from Ayodhya. In the post Godhra riots, both the communities had suffered. Hindus were also killed and Muslims were also killed. In the police firing of that Modi Government, Hindus were killed much more. Otherwise also Hindus were killed in unaccounted stabbing organized by the Muslims community, which was continued round the year.  
(11) Before Bombay Blast attack, the Government of India had issued instructions to costal security guards, to inspect the ships in the Arabian sea leniently. This was under the pressure of an allied party's top leader, of Nehruvian Congress. This gave a smooth way for the terrorists of Bombay blast, to enter India through western sea coast.
(12) During Nehruvian Congress lead Government, there was a common feature of having terrorists' attacks.
Had these signatories exhibited their concern?
All these indicate, that this lot of signatories is not educated. This lot has acted under Nehruvian Congress and its culturally allied parties' political agenda. If this is not correct then they must be fool or childish.
Now let us scrutinize the list of these lost so-called literate people;
THE CONTENTS OF THIS LIST.
Bengalis are 53 and they are 14 in Calcutta. Can CPIM & TMC & Nehruvian Congress not manage to get signed this much ?
Persons belonged to Kerala, Chennai, Hyderabad and Bangalore is 26. Can CPIM and Nehruvian Congress no manage this much?
Christians are 13.and Muslims are 11. Most of them are against NaMo. They can manage easily.
Persons studying or serving in Foreign Universities are 70. They party with above lot. Otherwise also they are prone to mislead.
In Gujarat the persons from  IIM and SEPT  of Ahmedabad are 5. Among these five, three are female and 2 are male. All these five are non-Gujaratis. They failed to find a single Gujarati to sign. How marvelous?
If you count like this; take Bengalis, Hyderabadis, Bengaloris and Chennait including those studying serving  in foreign countries,  and then add Christians and Muslims plus JNU and Ramjas Delhi and Delhi University you have a clear cut picture of the conspiracy.
There is no intellectual lot in Maharashtra, Gujarat, Rajasthan, MP….  Etc… of rest of India.
What a funny picture?
They could have found some people for the name sake from these states. But who will work so hard.
Thereby this gang has obtained signatures from their own contacts. Yellow journalism gives them out of proportion coverage, instead of scrutinizing the matter. Yellow journalism of India is very well lacking from investigative approach. Yellow journalism is always concentrating how to construct the matter with emotional sentences. In one case they had given 40 crores to distribute among media to not make noise against a deal in UPA government.
One Odd man Sudhir Chandra is detailed as Historian . Vinita Chandra from Ramjas College must be knowing him.
Another odd man a Chinese female Ying Chen working in USA has signed.
Ms Kiran Asher might be knowing her.
We can do some more research, but it would be useless once fact is established.
Many of these so called educated persons might be carrying an impression that why had they kept mum on greater evil acts took place during Nehruvian Congress rule (as narrated above) on an excuse that they were walking with perambulator.
If it is really like that, then also they are not pardonable. Because many of those issues are alive on date. E.g. The Kashmiri Hindus are not re-established in their home. Still they are refugees.
Besides this, when Narendra Modi lead government taking action to re-establish them, then the local Muslim leaders start agitating against re-establishment activities on flimsy and un-sustainable ground of demography. The same people did not react when the Hindus were being driven out. Why? If you can drive out a community then also demography gets changed. Why did you not agitate to secure the human rights of Kashmiri Hindus?
None of these elite signatories has made any noise when atrocity cases took place during Nehruvian Congress Government. These cases were of the order of 40000 every year?
In fact these signatories and their sponsoring political gang is enjoying the atrocity on Dalits. The caste-ism is not supported by any Hindu scripture and the caste-ism though ready to die, but the Nehruvian Congress party lead gang, wants the caste-ism should prevail for secure their vote bank. It is a weak part of Hinduism so far it is survived. However the elites of Indian society are trying to uplift Dalits and trying to bring them in main stream.
The Nehruvian Congress openly dividing the nation based on not only Caste, but also based on Religion, Region and Language ….
The divisive culture of Nehruvian Congress lead gang is known to wise people of India very well. That is why the said gang is trying for survival at any cost to the nation. The gang is spreading and floating false, twisted, misinterpreted issues and news to create a negative atmosphere for the Narendra Modi lead government.
People have identified the gang.
NARENDRA MODI GOVERNMENT IS THE ALL TIME THE BEST GOVERNMENT.     
TRUTH PREVAILS, NOT UNTRUTH.
COPERATION OF ALL, DEVELOPMENT OF ALL
THESE ARE THE SLOGAN OF NARENDRA MODI GOVERNMENT.
These fellow signatories and their sponsored parties and some sick media  would be ashamed of their deed, when they will find the developed India by 2014 under the government lead by Narendra Modi.
As per email received by me they are as under:
Odd persons : Do you know the history of the back ground? You must know that India is changing very fast under the leadership of Narendra Modi. There are gangs who possess political agenda to capture power at any cost to the nation.
Better do not poke your knows where you are not educated.
Shirish Mohanlal Dav